Sweepers OCP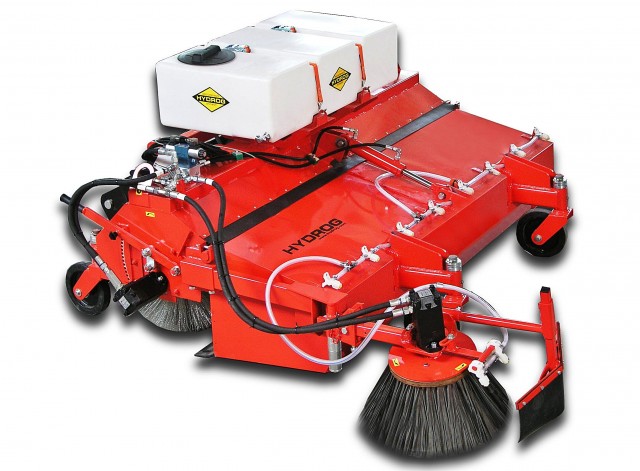 Hydrog sweepers - and everything is clear!
HYDROG OCP sweepers are very popular among road and municipal construction companies in Europe and in several Asian and African countries. These machines collect impurities such as sand, gravel, stones, mud, slag, soil etc. from roads, squares, sidewalks, alleys and other surfaces. These impurities are collected into the built-in tank with hydraulic opening. The sweeper is controlled from the driver's cab.
Main features

extremely solid and rigid steel body of the sweeper - frames are blasted, professionally protected against corrosion and painted in special painting booths,
power hydraulics of reputable world manufacturers,
reinforced support wheels,
effective sprinkling system with electric water pump, water tank.
Possible carriers
Hydrog OCP sweepers can be fitted to most vehicles equipped with a hydraulic system, for example:
agricultural tractors: Ursus, Zetor, MF, SAME, Landini, Case, MTZ,...
backhoe loader: Caterpillar, JCB, Volvo, Case, Komatsu,...
loadres: JCB, Caterpillar, Liebherr, Bobcat, Komatsu, Volvo,...
forlifts: Toyota, Jungheinrich, Zremb,...
utility trucks: Unimog, Hansa, Multicar,...
and many others.
Sweepers mounted on backhoe loaders, loaders and agricultural tractors equipped with a front loader allow the collection of impurities from the ground to the tank and gathering them in one of the selected locations. They also enable to empty the tank to be directly into the tipper or trailer. In case of sweeper attached to the tractor without a front loader, the sweeper tank is emptied on the roadside.
Additional equipment
side brush (boom, hydraulic motor, disc brush) - is used to remove impurities in hard-to-reach areas - at the curb, at the wall etc.
sprinkling system with water tank and electric water pump 12V or 24V (supply voltage in accordance with electrical installation in the carrier),
mounting backet to carrier,
hydraulic hoses with quick couplers for connecting the sweeper to the carrier.
Type:
OCP-600/1200
OCP-600/1500
OCP-600/1800
OCP-600/2100
OCP-600/2400
Cylindrical brush
length:
1200 mm
1500 mm
1800 mm
2100 mm
2400 mm
Cylindrical brush
diameter:
600 mm
600 mm
600 mm
600 mm
600 mm
Capacity
of the tank
for impurities:
140 dm3
170 dm3
200 dm3
240 dm3
260 dm3
Emptying
of the tank
for impurities:
hydraulic
hydraulic
hydraulic
hydraulic
hydraulic
Support wheels:
3 pcs
3 pcs
3 pcs
4 pcs
4 pcs
Brushes drive:
hydraulic
hydraulic
hydraulic
hydraulic
hydraulic
Power:
from the hydraulic system of the carrier
from the hydraulic system of the carrier
from the hydraulic system of the carrier
from the hydraulic system of the carrier
from the hydraulic system of the carrier
Min.demand for hydraulic oil:
18 l/min
18 l/min
18 l/min
30 l/min
40 l/min
Max.oil pressure:
150 bar
150 bar
150 bar
150 bar
150 bar
Sprinkling system:

water tank
on the machine

water pump

sprinklers
on the sweeper's body

water tank
on the machine

water pump

sprinklers
on the sweeper's body

water tank
on the machine

water pump

sprinklers
on the sweeper's body

water tank
on the machine

water pump

sprinklers
on the sweeper's body

water tank
on the machine

water pump

sprinklers
on the sweeper's body

Side brush:
right - option
left - option
right - option
left - option
right - option
left - option
right - option
left - option
right - option
left - option
Dimensions:
[ l x b x h ]
1700 x 1500 x 1200 [mm]
1700 x 1500 x 1200 [mm]
1700 x 1500 x 1200 [mm]
1700 x 2300 x 1200[mm]
1700 x 2600 x 1200 [mm]
Weight without fixing bracket:
260 kg
330 kg
390 kg
440 kg
540 kg