Road wideners DG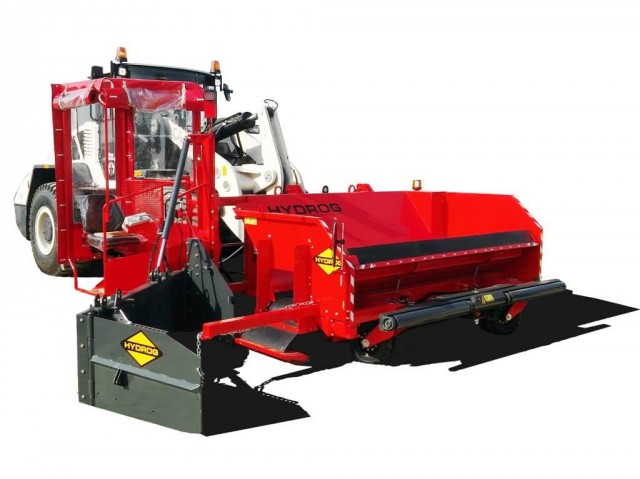 The strongest brand on road wideners market
Name "HYDROG" has become a synonym for the road wideners among many professionals in the road construction industry. We are a 100% Polish factory - therefore we are proud that HYDROG machines are the most widely used on different markets in different parts of the world - both large international companies and hundreds of smaller road companies. HYDROG DG road wideners successfully operate in the following countries: Poland, Germany, Austria, Switzerland, Slovakia, Ukraine, Belarus, Russia (from the Kaliningrad District to the Kolyma Peninsula), Lithuania, Latvia, Estonia, Finland, Netherlands, Belgium, France, Great Britain, Hungary, Bulgaria, Romania, Slovenia, United Arab Emirates, Algeria and Turkey. Number of satisfied users continues to increase at a rapid pace.
Take the advantage provided by HYDROG thanks to:
- the technical possibilities always greater than those of other brands
- a certain, constant high quality resulting from serial reproducible production
- immediate availability of spare parts


The HYDROG brand invests a lot of resources in research and development of its products, including road wideners, so that you could enjoy a refined machine that will satisfy current and new constantly appearing on the construction site needs. We listen to our customers and react as quickly as possible using the original authorial solutions. Many of these solutions are not available yet in other brands or have been recently entered and are not completely refined. HYDROG as first has introduced to road wideners innovative solutions that generate more profit for the user and increase efficiency and safety:
- control system allowing control of the machine from the driver's seat and from the driver's cabin without additional operator (introduced in 2013).
- hopper for paving material with variable geometry and movable front wall (from 2008)
- spreading blade with extended spreading width up to 3 m (from 2010)
- spreading blade vibrator (from 2009)
- hydraulic steering of the front bumper position (from 2008)
- SOFT CONTACT system of front bumper (from 2011)
...and many other original solutions.
We organize prezentations of our machines and production processes in Hydrog factory in Łódź and dynamic demonstrations on construction sites. We invite you to cooperation!
Machine characteristics
DG-3000 Hydrog road widener is intended mainly for efficient paving of all constructional layers of the road shoulder or widening the road using cold materials or hot asphalt. This machine is attached to the carrier (loader, backhoe loader, tractor, grader, Unimog etc.). The connection of the road widener to the carrier is made by special adapter plate. The machine works in conjunctions with tipper truck based on its front bumper. The material is thrown to the side with a conveyor belt, and then it is formed and spread by the spreading blade.
Hydrog DG-3000 Premiumis the only such attachment on the market, which in addition to the conventional control system from the operator seat, the machine can also be controlled from the carrier (e.g. a loader). Thanks to that hiring a separate operator is unnecessary which significantly reduces the cost performing the works.
Multitasking of HYDROG road wideners
Material used:
- cold (aggregate, concrete for stabilization and others)
- hot bituminous mass up to 200 ° C
Kind of works performed by DG-1500:
road shoulder paving and widening
dispensing of bituminous masses into the paver on the bike path using a second side conveyor belt
filling the spaces between road barriers
forming of dreinage ditches from hot bituminous mass
laying the materials behind the curb
laying the materials 2 m behind the road edge (e.g. behind the dreinage ditch)
The Hydrog DG greatly increases work efficiency compared to manual spreading or using the grader. A three-person staff is able to spread a dozen of kilometers within one shift. Aesthetics of paved road shoulder is second to none. Thanks to the adapter plates, one DG-1500 can operate with many different carriers.
Operating elements of DG-3000 HYDROG are driven independently from the carrier.
Highly wear resistant support wheels
The machine has 4 wheels (large diameter, solid rubber, load capacity 16 tons). They can carry loads several times greater than the weight of DG-3000.
Diesel engine of the highest shelf
Perkins diesel 3-cylinder, liquid cooled.. The strongest in this type of machine - power up to 34 hp. Wysoka moc zapewnia wydajną pracę przy dużych obciążeniach (np. przy współpracy z wywrotkami wielkotonażowymi). Low fuel consumption of approx. 3 l / hour (depending on operating conditions). Easy access to maintenance.
Front roller bumper
The ejection of the bumper is hydraulically adjusted. The SOFT CONTACT system provides cushioned contact with the tipper.This solution guarantees no overloads, no collisions, no risk of damage to the machine. This translates into greater comfort and safety.
Equipment facilitating work
We offer additional equipment, such as:
spreading blade vibrator– facilitates even distribution of material at larger spreading widths
rear disk brush - clears the edge of the road at the edge, replaces one additional employee,
operator's seat with safe and ergonomic seat,
intuitive control panel separated from the hydraulics,
the ability to transfer control panel to the carrier's cab (lower costs at the same performance).
High quality at every stage of production
The machine frame and all steel components are shot blasted in special cabin. We take care of professional corrosion protection and painting in painting cabin. We use components only from trusted and reputable world manufacturers. Quality control of the machines at the HYDROG factory takes place at every stage of its production.
Spreading width:
10 cm ÷ 3,0 m (depending on the selected equipment )
Width adjustment:
hydraulic, using the extension units
Paved layer height:
- / + 300 mm from the road level
Height adjustment:

hydraulic, smooth adjustment

possibility of spreading behind the curb

Slope of the paved layer:
+ / - 15 %
Slope adjustment:
hydraulic
Spreading speed:
up to 50 m/ min
Spreading performance:
up to 300 t / h
Control:

STANDARD: operator seat on the machine

PREMIUM: operator seat on the machine, with possibility of transfer the control panel to the carrier cab

Combustion engine:
Diesel Perkins 34 HP, liquid cooled
Lighting:
working lights (LEDs) and warning (LED orange flash)
Additional equipment:
800 mm diameter disc brush with independent hydraulic circuit,
spreading blade vibrator,
TV monitoring for observing the spreading area from the carrier cab,
oparator cabin,
blade unit for forming of drainage ditch,


Maximum working dimensions:
2.820 x 5.970 mm
Transport dimensions:
2.350 x 3.400 mm
Weight:
2.700 kg
Adapter plate weight:
approx. 150 – 350 kg (depending on carrier)