Mastic asphalt finishers RAL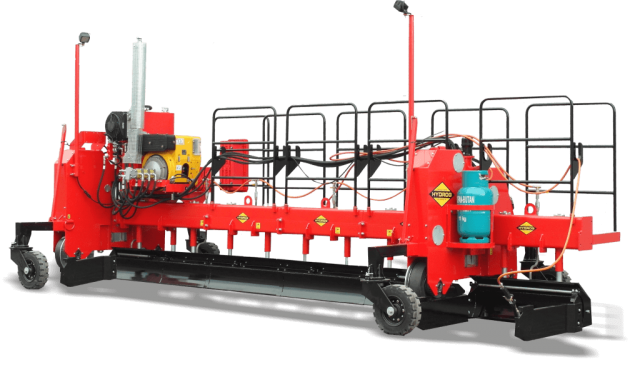 Intended use
Mastic asphalt finisher RAL-5000 and RAL-7500 are intended for spreading mastic asphalt layer by a heated leveling blade while performing:
• bridge and road surfaces,
• bicycle paths,
• alleys in parks,
• surfaces between tram and railways rails
Principle of operation
RAL finishers spread the mastic aspahlt poured by the mastic asphalt boiler on the surface using a gas-heated spreading blade. Optional augers evenly spread the asphalt before the blade, eliminating the need for manual work. The augers are hydraulically driven with smooth speed control and hight adjustment.
Width and height of spreading
RAL mastic asphalt finishers have a modular construction. The required spreading width is obtained by adding extension segments to main unit. Max. spreading blade width limiting sides: 5.500 m (in RAL-5500) oraz 7.500 mm (in RAL-7500).
The asphalt spreading height is hydraulically adjustable. The total height adjustment range is from -300 mm to + 200 mm from the level at which the working wheels go. The individual spreading blade units have additional height adjustment that is used to determine the laying profile.
Solid support wheels
All working wheels are hydraulically driven. They are one of the widest wheels on the market. Wheel parameters permit, for example, the working on the insulations made of bituminous waterproofing systems without damaging them. The working wheels are hidden in the outline of left and right driving elements (driving mechanism). This solution enhances the capabilities of the machine, for example, allows spreading closer to the curb or wall. The driving speed is smoothly adjusted - separately for the right and left sides of the machine.
Heating system
The spreading blade is evenly heated by the burners. The burners are located on the entire width of the blade. Limiting sides are also heated by burners. Both machines have 2 spaces for propane butane gas cylinders 11 kg or 33 kg. The standard machine is equipped with 2 gas cylinders 11 kg each.
Two engine versions
RAL are equipped with high quality diesel engines Hatz Silent Pack (with silencing covers). You can choose between two engine versions 1-cylinder or 2-cylinder.
Type:
Hydrog RAL-5500
Hydrog RAL-7500
Spreading width:
up to 5.542 mm
up to 7.578 mm
Configurations of spreading units:
main unit 1470 mm + 4 units 1.018 mm each
main unit 1470 mm + 6 units 1.018 mm each
Spreading height:
from -300 do + 200 mm from the level of the wheels
from -300 do + 200 mm from the level of the wheels
Combustion engine:

1-cylinder diesel Hatz 1D81C Silent Pack (with silencing cover) air-cooled, moc 9,6 kW

or

2-cylinder diesel Hatz 2L41C Silent Pack (with silencing cover) air-cooled, moc 22 kW

2-cylinder diesel Hatz 2L41C Silent Pack (with silencing cover) air-cooled, moc 22 kW
Spreading augers:
option
option
Drive of the ride:
hydraulic, independent for the right and left side
hydraulic, independent for the right and left side
Working speed:

smoothly adjustable

from 0,15 to 5,0 m/min

smoothly adjustable

from 0,15 to 5,0 m/min

Support wheels:
width of 130 mm with solid rubber
width of 130 mm with solid rubber
Spreading blade heating:
burner over the entire length of the blade
burner over the entire length of the blade
Limiting sides heating:
LPG heating torch
LPG heating torch
Burners fuel:
gas propan butan, in standard equipment gas cylinders 2 x 11 kg (optionally 2 x 33 kg)
gas propan butan, in standard equipment gas cylinders 2 x 11 kg (optionally 2 x 33 kg)