Bitumen emulsion sprayers SR-KOMPAKT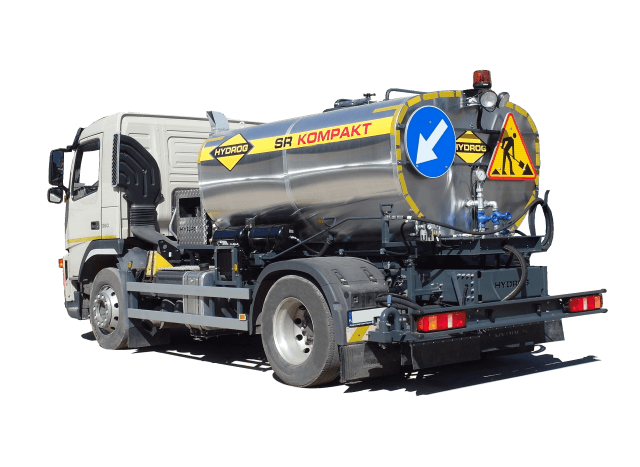 Sometimes easy means better
For less demanding works on local roads or construction sites, where the spraying reports are not required and you do not want to allocate a truck exclusively for the sprayer, the portable Hydrog Kompakt sprayer will be a perfect solution:
spraying width of 2.5 m,
automatic bitumen emulsion heating,
automatic air compressor,
manual bitumen emulsion pressure and pump speed adjustment
simple design but built with high quality components
SR Kompakt sprayer combines all these advantages in a very affordable price!
Precision spraying output

Hydrog Kompakt Sprayers are equipped with a very precise digital spraying output indicator. Based on the signals from the speed and bitumen emulsion pressure sensor, the spraying output is automatically calculated. As a result, you know exactly how much emulsion is sprayed on the surface. Only one time system calibration is required.
Reliable design

Although the spraying parameters for Hydrog SR Kompakt machines are set manually, only one operator is required. Spray bar control from the cab. Driver - operator can activate spraying nozzles in any configuration, also in the course of the spraying process. Spraying output is adjusted with the bitumen emulsion pressure in the system.
.
.
.
Max. spraying width

3,5 m (base bar 2,5 m
+ optional foldable extension of 1 m)

Spraying width adjustment

every 250 mm

Spraying output

0,1 – 1,2 kg/m2;

Tank capacity

2.000 --- 3.000 --- 4.000 l (depending on type)

Tank insulation

100 mm + aluminium cover

Heating

oil burner automatically controlled

Heating temp.

up to 85 °C

Engine versions

diesel Lombardini 25LD425 19 HP
or
gasoline Briggs & Stratton Vanguard 23 HP

Equipment

air compressor with automatic control
hand lance
emulsion temperature indicator
emulsion pressure indicator

Design

1) truck fixed superstructure
2) trailer fixed superstructure
3) portable machine not permanently mounted to the chassis