Side sweepers OCN for trucks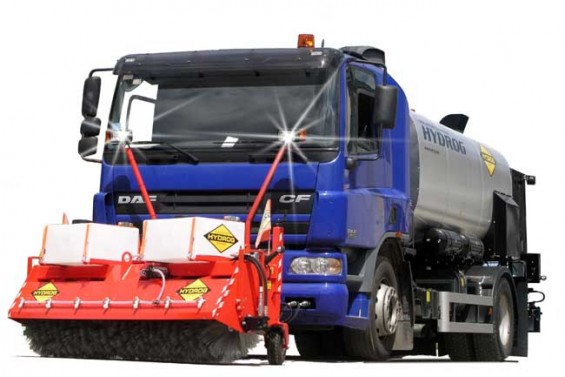 Hydrog sweepers - and everything is clear!
OCN sweepers are intended for cleaning the surface from impurities such as sand, grit, mud, snow, etc. The impuritiesfrom the ground are discarded by the brush to the side. The angle of the brush relative to the carrier is manually or hydraulically adjusted. The angle of the brush relative to the carrier is manually or hydraulically adjusted. They are attached to the front of the carrier on: front mounting plate, bracket mounted to theframe or 3-point hitch. They can also be attached at the rear of the carrier. Fixing is performd by means of mounting bracket which is individually designed for each type of carrier.
Experience guarantees quality
HYDROG has been manufacturing and supplying sweepers for construction and municipal companies for decades. This experience guarantees you the benefits of choosing the Hydrog brand. Components and materials used ensure long and reliable operation at the lowest operating cost. They are easy to adapt sweepers to work with many popular construction machines, agricultural tractors, trucks and forklifts. That makes them useful during the construction and repair of roads, cleaning of streets, squares, pakking lots and halls.
Take the advantage provided by Hydrog
Solid and rigid body of the sweeper and the most robust support wheels on the market - these features certainly distinguish Hydrog brand on the market of sweepers. These machines are designed for intensive work in the harshest construction conditions.
Make the most of your truck
Hydrog OCN sweeper for truck is equipped with:
mounting bracket on front plate in accordance with DIN 76060 standard (or other- on request)
system preventing the support wheels from overload when turning
headlamps and outline lights
support wheels with height adjustment
control panel in driver's cab
Sweeper can be additionally equipped with:
sprinkling pressure system with water pump and sprinklers in front of the brush. The system can be supplied with water from a tank mounted on the sweeper body or connected to a larger tank at the rear of the truck / vehicle.
separate sliding handle right / left +/-240 mm in relation to central position. It facilitates the cleaning of road by road edges (eg at the curb).
In order to expand the machine's possible applications we recommend the use of the OCN sweepers in combination with the HYDROG SH Premium or SR Kompakt bitumen emulsion sprayer.
Type:
Side sweeper HYDROG OCN-600/2400 (for trucks)
Brush length:
2400 mm
Sweeping width:
2100 mm
Brush rotations:
150 ÷ 450 obr/min
Brush drive:
hydraulic (from the hydraulic system of the carrier)
Raising /lowering:
hydraulic
Setting the operating positions (right / left):
hydraulic
Lighting:
headlamps + turn signals + outline lights
Dimensions:
1.325 x 2.630 x 1.150 mm
Weight of the sweeper without mounting bracket:
360 kg
Requirements for the carrier:
Hydraulic circuit with quick-couplers next to the front plate
Oil flow 40 ÷ 65 l/min
Max. oil pressure 150 bar
Front axle carrying capacity sufficient to lift the sweeper