Side sweepers OCN for tractors or loaders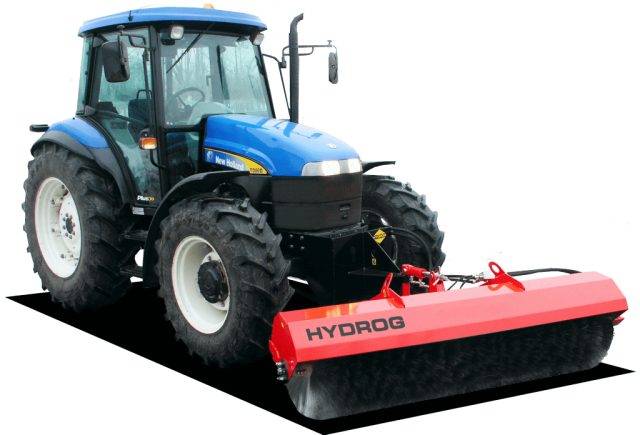 Hydrog sweepers - and everything is clear !
OCN sweepers are intended for cleaning the surface from impurities such as sand, grit, mud, snow, etc. The impurities from the ground are discarded by the brush to the side. The angle of the brush relative to the carrier is manually or hydraulically adjusted. They are attached to the front of the carrier on: front mounting plate, bracket mounted to the frame or 3-point hitch. They can also be attached at the rear of the carrier. Fixing is performd by means of mounting bracket which is individually designed for each type of carrier.
Experience guarantees quality
HYDROG has been manufacturing and supplying sweepers for construction and municipal companies for decades. This experience guarantees you the benefits of choosing the Hydrog brand. Components and materials used ensure long and reliable operation at the lowest operating cost. They are easy to adapt sweepers to work with many popular construction machines, agricultural tractors, trucks and forklifts. That makes them useful during the construction and repair of roads, cleaning of streets, squares, parking lots and halls.
Take the advantage provided by Hydrog
Solid and rigid body of the sweeper and the most robust support wheels on the market - these features certainly distinguish Hydrog brand on the market of sweepers. These machines are designed for intensive work in the harshest working conditions.
Type
OCN-600/1200
OCN-600/1500
OCN-600/1800
OCN-600/2100
OCN-600/2400
Brush shaft width
1,2 m
1,5 m
1,8 m
2,1 m
2,4 m
Brush shaft diameter
600 mm
600 mm
600 mm
600 mm
600 mm
Roller brush speed
150 ÷ 450 rot/min
150 ÷ 450 rot/min
150 ÷ 450 rot/min
150 ÷ 450 rot/min
150 ÷ 450 rot/min
Control
from truck's cab
from truck's cab
from truck's cab
from truck's cab
from truck's cab
Brush lifting and lowering
hydraulic
hydraulic
hydraulic
hydraulic
hydraulic
Brush angle adjustment
manual or hydraulic
manual or hydraulic
manual or hydraulic
manual or hydraulic
manual or hydraulic
Minimum oil flow required
18 l/min
18 l/min
20 l/min
20 l/min
40 l/min
Additional equipment
sprinkling system
support wheels
headlamps
sprinkling system
support wheels
headlamps
sprinkling system
support wheels
headlamps
sprinkling system
support wheels
headlamps
sprinkling system
support wheels
headlamps
Dimensions
1.000 x 1.400 x 750 mm
1.000 x 1.700 x 750 mm
1.000 x 2.000 x 750 mm
1.000 x 2.300 x 750 mm
1.000 x 2.600 x 750 mm
Weight of base version
165 kg
178 kg
190 kg
205 kg
290 kg