Cracksealing machines ZSK-40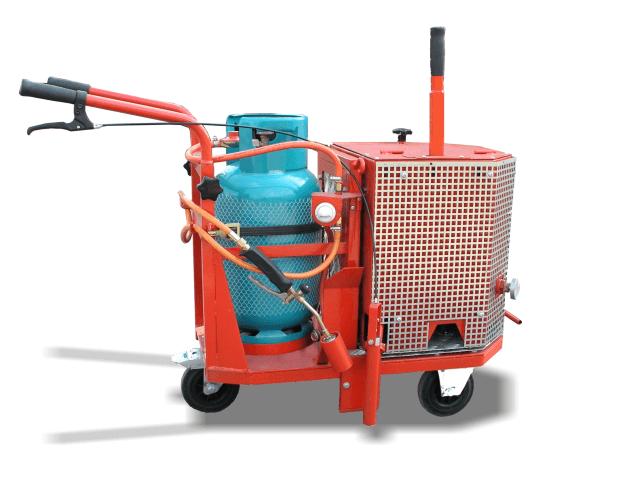 Intended use:
• Sealing the edges with sealing compunds, bitumen etc.
• Sealing the joints between strips in asphalt surface
• Filling joint gaps in roads, airports, bridges and viaducts
• Repair of cracks in aspahlt and bitumen surfaces
• Sealing tram induction loops etc.
Handy equipment for cracksealing
The sealing compound is placed to tank which is heated by main burner supplied with a propane - butane gas cylinder and indirect heating plate. Operator can control the current temperature of compound thanks to the temperature indicator. When the sealing compund reaches the operation temperature, and changes to liquid state it is dosed by drain pipe precisely into the selected edge or joint. This drain pipe is heated by special auxiliary burner. The three-wheeled chassis allows the precise and convenient leading of the machine both over linear expansion joints but also over irregular cracks in the surface. The tank is equipped with hand stirrer to facilitate the melting of sealing compound. The machine is equipped with an explosion protection device to cut off the gas supply after the flame goes out. Due to its compact dimensions and weight, Hydrog ZSK-40 enables fast and convenient cracksealing.
Standard equipment:
gas cylinder 11 kg, propane - butane,
mastic temperature gauge,
main burner under the tank + auxiliary burner,
edge filling tip,
joints filling tip.
| | |
| --- | --- |
| Type: | ZSK-40 |
| Sealing compound tank capacity: | 40 l (ok. 45 kg) |
| Weight without gas cylinder: | 95 kg |
| Fuel: | propan-butan |
| Dimensions: | 1260 x 550 x 1020 mm |
| Range of sealing compound working temperature: | up to 240 °C |
| Explosion protection: | automatic shut off of the gas supply to the burner after the flame goes out |
| Sealing compound heating: | intermediate without overheating the sealing compound |