Airport cleaners OLH-3850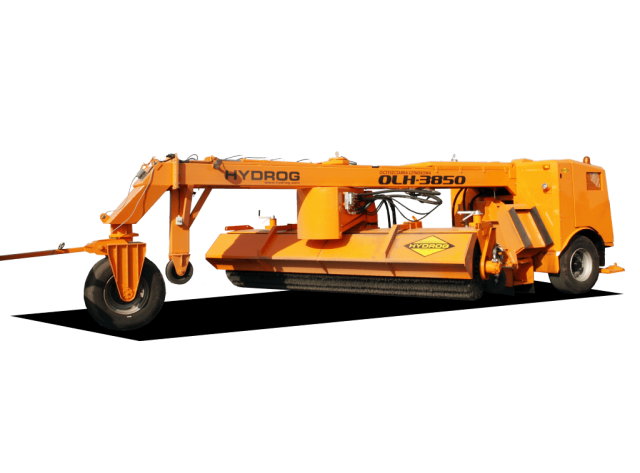 HYDROG OLH-3850 Airfield cleaning machine

Airport cleaning machine is intended for cleaning runway pavements from sand, gravel, snow, ice, and metal debris with a rotary roller brush with hydraulic drive, blower fan and magnetic plate. Depending on the version, the machine is compatible with a road tractor, a truck or a tractor.
TECHNICAL DATA
HYDROG OLH-3850 AIRFIELD CLEANING MACHINE
Maximum working speed
60 km/h
Cleaning width at 30o brush rotation
3.850 mm
Maximum cleaning output
231.000 m⊃2;/h
Dimensions:
Length
truck 10.8 m / road tractor 10.6 m
Width
2,95 m
Height
2,5 m
Weight
11.500 kg
Brush
No. of cartridges around the periphery
20
Brush rotation
± 30o
Brush diameter
Ø 1000 mm
Brush length
4.460 mm
Brush speed
0 ÷ 800 rpm
Drive
hydraulic
Lifting - lowering - rotating
hydraulic - cylinders
Drive pump
hydraulic
Gauge wheels
500 x 8 - 4 pcs.
Engine
Diesel
Type
Iveco Cursor 8
Power
310 HP
Displacement
7.790 cm⊃3;
Electrical system voltage:
24 V
Starter power
4,5 kW
Fuel consumption (diesel oil)
206 g/kWh
Fuel tank capacity
340 dm⊃3;
Fan
Delivery
8 m3/ sec
Speed
2,750 rpm
Air outlet velocity
400 km/h
Drive
hydraulic
Lifting - lowering
hydraulic - cylinder
Chassis
Tires
2 x 385/65 R22,5 TL
Mounting
pneumatic
Brakes
2 circumferential
Axle
trailing SAF
Support stand
hydraulically extended
Magnetic plate
Working area dimensions
400 mm x 2800 mm
Lowering to the working position
Hydraulic
Magnets
permanent 26 ÷29 kJ/m3: 80
Combustion engine
Tested to EURO-3 and Tier-2.
Low fuel consumption, high durability and reliability.
Protected with the following sensors:
hydraulic oil leakage
engine oil pressure drop
clogged air filter.
high engine temperature.
exceeding maximum hydraulic oil temperature
Sensors shut down machine engine
in case the parameters are exceeded.
Engine control panel with:
Ignition switch
Engine speed indicator
Brush speed indicator,
Fuel gauge,
Oil pressure gauge,
Coolant temperature indicator,
Emergency stop indicator.
Emergency switch.
Combustion engine casing
Hydraulic lifting via control panel
access to the engine and hydraulics
Emergency lifting with a manual hydraulic pump
Roller brush
The brush is supported by two rocker arms - during operation it moves on four wheels, independent from the cleaning machine frame, providing perfect adjustment to the surface.
Brush lifting hydraulics is set in the floating position.
Hydraulic brush drive
Brush cartridge design enables fast replacement and easy maintenance. Cartridge replacement does not require shaft balancing.
Brush path correction is manual in standard version, electric or hydraulic adjustment is optional.
Blowing fan
Heavy duty fan – 8 m3/s – blowing the surface behind the brush roller
Hydraulic drive
Hydraulic lowering to the working position
Directional diffuser with hydraulic control
Left / right direction change coupled with brush direction change
Chassis
Trailing axle of the rear suspension on pneumatic springs with adjustable stiffness for high cleaning and transport speeds.
SAF axle is maintenance - free (inspection every 150,000 km).
Magnetic plate
Removing ferromagnetic impurities from the surface
Hydraulic lowering
Easy plate cleaning


Additional information
The cleaner is compatible with trucks, road tractors and tractors.
Switching from operation to transport mode in several seconds with a single operator.
Control of cleaner movement and emergency stop from the tractor cab.
Hydraulic control of the gauge wheel for easy machine positioning at standstill.
Pneumatic rear axle suspension for increased durability of all machine components.
Easy machine operation and maintenance.
The engine is automatically shut down in case of engine or hydraulics failure.