Christmas and New Year's Holidays 2016/2017
Please note that due to Christmas and New Year's Holidays our office and factory remain closed from 24 December 2016 to 8 January 2017. For urgent issues please contact Export Department on +48 601 377 869 or +48 691 904 888. We apologize for the inconvenience.
Hydrog exhibited in StroMa Expo 2016
in Bulgaria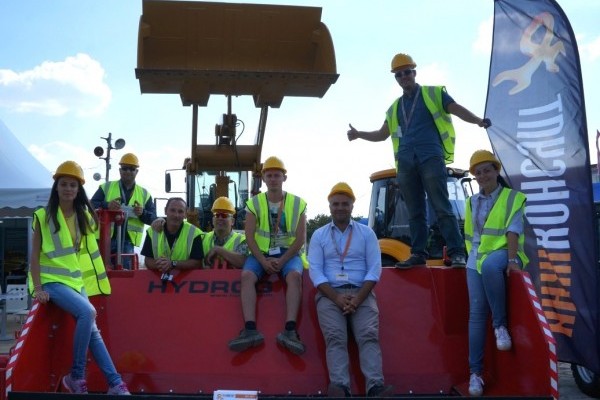 The chosen Hydrog products were presented on the most important fair for construction and maintenance equipment in Bulgaria, StroMa Expo 2016 (http://stromaexpo.bg/) which was held from September 14 to September 16 in Balsha, an open stone quarry near Sofia.24 exhibitors and over 700 visitors participated in this second edition of the fair. More than 50 machines were demonstrated in real working environment including crack sealing machines Hydrog ZSK-40 and ZSK-300, road widener Hydrog DG-1500, as well as asphalt and concrete miller Hydrog FA-300.We thank you our Bulgarian partner for handling[...]
National holiday on 11th of November
in Poland
Please be informed that on 11th of November 2016 our factory and office will be closed due to the national holiday. We will respond to your enquiries upon our return on 14th of November.
Chip spreader Hydrog RG on Nysa ring road
A construction of a new ring road around the town of Nysa near the state border with Czech Republic is currently one of major road investments in southern Poland. Such an important construction site must have been supplied with with Hydrog equipment. It was Hydrog RG chip spreader mounted on Ammann road roller. This set of machines was used for spreading and compressing grit on a fresh bitumen layer. The investment is being accomplished by a consortium of 'Mota Engil' group and 'Himmel i Papesch Opole Sp. z o.o.'.
Hydrog on new European markets
Hydrog, already very well known in domestic market, is gaining more and more recognition among construction companies from Western Europe. Another unit of Hydrog DG-1500 road wideners being produced in continuous series started to work this summer on the roads of western Switzerland. Thanks to precise instructions and professional assistance of our technical consultants the machine has been set in motion successfully and since then it performs its tasks smoothly and efficiently. A new buyer appreciates especially the uncomplicated handling of particular elements, a possibility to fit the[...]
Demonstration of bitumen emulsion sprinkling on S7 expressway
Another demonstration in the field took place in June - this time for our UK customers interested in the innovative technology used in Hydrog products. Our guests had the opportunity to check the construction of HYDROG SH-PREMIUM bitumen emulsion sprayer and assess its exceptional sprinkling quality. The demonstration was accomplished successfully thanks to the kindness of our trusted customer - Budimex - Ferrovial Agroman consortium - which is constructing a section of S7 expressway from Warsaw to Cracow. Appreciating the involvement of Budimex machine operators we are inviting all[...]
Chip spreaders for road rollers 2016
We have a pleasure to present a few examples of this year's production of chip spreader units mounted on new rollers of HAMM, AMMANN and CAT. On this occasion we would like to point out that our chip spreaders are manufactured in versions dedicated to specific roller models of different brands. We are also adapting the rollers to work with our chip spreaders in consultation with the roller's manufacturer according to specific guidelines for individual brands. As a result, a guarantee for a new roller is maintained after installation of the chip spreader. Our spreaders are available in[...]
Thank you for visiting our stand
on the world's largest fair
for construction machinery –
Bauma 2016 in Munich, Germany
Bauma 2016 in Munich is behind us. Hydrog was the only Polish manufacturer of road construction equipment who presented its machinery on the fair allowing all interested parties to get to know our assortment better and check it functioning live. We strengthened our relationship with existing partners from around the world and established many new contacts. As professionals in the industry we will do everything to make your first meeting with us at the stand the beginning of a fruitful cooperation. Many thanks to all our customers for visiting our stand and see you soon!